Rallying Against Stephen Harper with Canadians in Brooklyn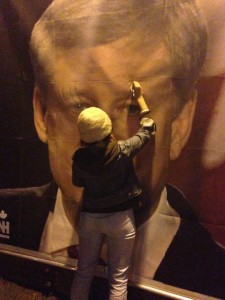 I was glad I could offer my personal support to Canadian expatriots in the NY area who rallied last night to mobilize voters back home to help vote the Stephen Harper government out of power in the federal election next Monday, October 19. Among the musical guests that played were Slow Down, Molasses, a rockin' band from Sasketchewan. I chatted with Levi, one of the 5-piece band's guitarists, and his friend, Amanda. Gillian Frank—an expat who's filed suit against the current government's restrictions on the voting rights of Canadians living abroad, contrary to provisions of the Charter of Rights and Freedoms—was also in the house and gave a rousing talk. Frank's website is LetCanadiansVote.com.
I was also pleased to see that a number of journalists—both independent correspondents and representatives of traditional media, like the Guardian, which ran this video report today—came out to cover the event. Among the latter group was CBC's correspondent in New York, Steven D'Souza, who I saw holding a mic emblazoned with the CBC logo on it while he conducted an interview with a woman who spoke about how Canada's reputation abroad, always stellar when she travels, has suffered around the world. As he asked her questions, I recognized his voice from listening to CBC radio. He interviewed me, too, asking why an American had come to this event. I explained about my lifelong affinity for Canada, and my bi-national bent, in which I've long been interested in politics, culture, and media in Canada and the US. I added that the longer Harper's been in power, the more I've been reminded of the George W. Bush presidency, a disastrous siege from which the US is still recovering. I'll add here what I wish I'd also said: the CBC is an essential national service and I hope with great fervency that the next Canadian government will fully restore funding and support for the future of the national broadcaster. No more #CBCCuts, please.
D'Souza carried a tripod, a small bank of lights, and a digital SLR with video capabilities, making him a veritable one-man band/media producer.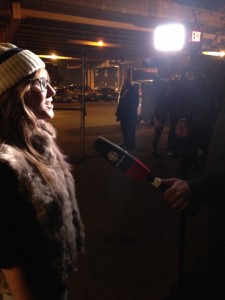 The venue in Brooklyn was intriguing, a former car wash called Williamsburg Hand & Detail that's recently been converted to a music venue. I had a chat with "Donovan," one of the proprietors of the new venue. There was indoor space, where the bands played, and outdoor space, where spontaneous art-making was encouraged, including a big photograph of Stephen Harper on which people were drawing new facial features and pungent messages. Wearing a PEI ball-cap obtained during a vacation to Canada's smallest province some years ago, and a CBC Radio 3 t-shirt under my jacket, I met lots of interesting people, with whom I discussed politics, music, baseball, and books. Here are more pictures from the event.
Browse by Month:
Browse by Category:
Browse by Tag:
#elexn42
#ToPoli
60 MInutes
1993
2015 elections
2015 Federal Election
2016 presidential election
@CBCRadio3
Abraham Lincoln
Acadia
Adolf Hitler
Agent Orange
Alice Munro
Amanda Lang
Amelia Curran
Amity Beach
Amtrak
Anderson Varajao
Antonine Maillet
architecture
Arctic Ocean
Arkells
AUX TV
Ben Caplan
Beverley Slopen
book-to-film adaptations
Born Ruffians
Boyhood
Brain Cloud
branding exercises
Brandon Downing
bullying
Cabot Trail
Calvin Reid
Canada
Canadiana
Canadian authors
Canadian bands in NYC
Canadian Blast
Canadian elections
Canadian indie music
canadian indie rock
Canadian indie rock n' roll
canadian politics
Canadian rock n' roll
Canadians abroad
Canadian vacations
cancer
CANlit
CANRock
Cape Breton
CBC
CBC Books
CBC Music
CBC Radio
CBC Radio 3
CBC Sunday Edition
CBS
Chicago
Cleveland
CMJ
CMJ Music Marathon
CN Tower
coffee
Cold War
Colm Toibin
comedy
Communion Music
Corb Lund
corruption
covert agents
cowboy culture
Crime Writers of Canada
cross-cultural writing
Daniel Canty
Dave Bidini
Dave Van Ronk
David Margolick
Del Barber
depression
dialect
Doug Ford
drunk driving
editorial services
Edward Keenan
Edward Robb Ellis
Elizabeth May
Elliott Brood
Ethan Hawke
Ewan Turner
fair housing
Farley Mowat
Fence Books
flickr
folk music
Franconia College
Frazey Ford
French
FridayReads
Gaspé Peninsula
George Elliott Clarke
George Washington Bridge
Gill Deacon
global climate change
Grant Lawrence
Greenwich Village
Harlan Pepper
Henry Tandey
Hidden Pony
HIGHS
hockey
Hollerado
Honourary Canadian
Howard Engel
humor
Ian Tyson
indie music
In Flight Safety
Ireland
Irish music
Israel
Jan Wong
Jian Ghomeshi
Jill Barber
Joe's Pub
journalism
Justin Trudeau
Kathryn Kuitenbrouwer
Kevin Donovan
Keystone XL
Lee's Palace
Lee Harvey Osmond
Lee Lorch
Leonard Cohen
life after corporate publishing
Linda Ronstadt
Lisa LeBlanc
Little Red Lighthouse
Little Rock Nine
live music
Lo-Fantasy
lower east side
Lt. General Roméo Dallaire
Marc Maron
marijuana laws
Matt Andersen
Mayor Bill de Blasio
Mayor Rob Ford
McGarrigle Sisters
Megan Bonnell
Mellow Pages
Memoirs
mental health treatment
Mercury Lounge
methane
M for Montreal
Michael Barclay
Michael Enright
Michael Ruby
Miles O'Brien
Mo Kenney
Monomyth
music festivals
music marketing
National Film Board of Canada
Neil Young
Neil Young. Third Man Records
Nevado Records
Newfoundland
New York City
New York music venues
Noah
Nobel Prize
NXNE
Olympics
Ontario
Ottawa Jazz Festival
Paperbag Records
Parks Canada
Percé Rock
Peter Warner
photojournalism
podcasting
poetry
political mindsets
President Obama
prosthetics
PS I Love You
PTSD
PublishersMarketplace.com
Publishers Weekly
Pumpkin Pie
Q
Quebec
racial bias
Rah Rah
Random House Canada
road trips
Robert Henry Adams
Rob Ford
Rockwood Music Hall
Rolling Stone
Rural Alberta Advantage
Ruth Gruber
Sadies
Said the Whale
Sam Roberts Band
SaskMusic
SaskMusic.org
satire
Scott Young
sex education
Shawn William Clark
Shore Fire Media
short stories
Siberia
sister cities
spy novels
Stephen Harper
Stephen Marche
St Louis
Stompin' Tom Connors
Strombo Show
Strumbellas
suicide prevention
summer vacation 2014
Swiss Water
Syrian refugees
Talonbooks
Thanksgiving
The Ballad of Crowfoot
The Deep Dark Woods
TheGreatGrayBridge.com
The Orchard
The Revenant
The Strumbellas
This is That
Toronto
Toronto Book Awards
Toronto mayoral election
Toronto Star
Torquil Campbell
traditional music
Turnip King
Ugly Duckling Presse
upper Manhattan
Vancouver
Vietnam
W.B. Belcher
war memorials
Wigrum
Wilderness of Manitoba
WWI