Always Something New to Learn about Canada, like the Acadian Dialect Chiac, Vernacular for Author Antonine Maillet
I recently heard a fascinating radio segment on the public radio program The World about a dialect of French heard nowadays exclusively in the regions of Canada where people of Acadian descent live today, Nova Scotia (NS) and New Brunswick (NB). It's called Chiac, a name derived from a nearby town, Shediac, NB, that calls itself "Lobster Capitol of the World." The program had run a shortened version of this half-hour podcast on WNYC, and I'm listening to the full version, part of their World of Words podcast, while writing this post. I was particularly excited when at the end of the radio bit they played a song by the incomparable Lisa Leblanc, who I heard live and loved at the CMJ festival in 2014, shown here.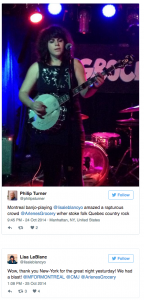 As readers of this blog may recall, I've traveled a lot in Atlantic Canada, including through Acadian locales, including the scenic island of Cape Breton, NS, where I learned about the mass expulsion of 1755-1764 which the British Navy forced on French-speaking people who'd settled in the region. I'd never known the local dialect had a name.
Relatedly, as editor at Walker & Co in 1987, I published the US edition of a novel by one of New Brunswick's most honored writers, Antonine Maillet (b. 1929) of Bouctouche, NB, a town just north of Shediac facing the Gulf of St Lawrence across from the southern shores of Prince Edward Island. The book had come out in Canada a few years earlier, and I acquired US rights from a doyenne of Canadian publishing, Louise Dennys, for many years with Random House and Knopf Canada who was then part of her own company, Lester & Orpen Dennys. Maillet's book was a fantastical historical novel, featuring a female pirate named Crache à Pic (translates as 'spit-in-your-eye), skipper of a ship called Sea-Cow. who while Prohibition prevails in the States is running whiskey to American smugglers' boats in the north Atlantic. My flap copy read, "Immediately reminiscent of Compton Mackenzie's Whisky Galore and Howard Frank Mosher's Disappearances, the Walker Adventure Series is pleased to publish The Devil is Loose! and Antonine Maillet, a storyteller of international reputation."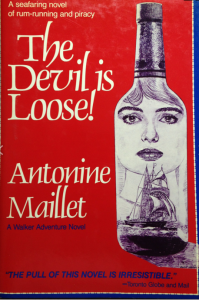 Mackenzie's 1947 novel was set during WWII, when a whisky-laden ship runs aground near the aptly-named Great Todday and Little Todday, Scottish islands whose ration  of spirits has run out, leaving locals high and dry, who must decide what to do with the contraband; it was adapted for the funny movie, Tight Little Island. Mosher's Disappearances is a multi-generational romp featuring a family who sometimes go by the surname Goodman, and sometimes Bonhomme. They live in the mythical Northeast Kingdom, Vermont's northernmost region, and run liquor across the very real Lake Memphremagog, a long body of fresh water that straddles the border with Canada. I used to quote the opening paragraph for customers who I thought would enjoy the novel. Mosher has since written many novels set in Kingdom County.
Maillet was by 1987 already the author of more than 25 novels and plays, rich work that draws on a centuries-long store of folklore and local knowledge, about which she's a scholar. In '87, she traveled to NYC from Montreal, where she divides time with Bouctouche, and gave a talk at the Americas Society on Park Ave. Her tour in the US was subsidized by the cultural ministry of Quebec. I'll add, from the year I entered publishing as an editor, in 1986, Canadian authors I published in the US, including Lt Romeo Dallaire and Margaret Atwood, often received significant support from federal and provincial agencies, eager to promote Canadian writers, including authors freshly launched in their careers, like Steven Galloway, whose first adult novel Ascension I brought in 2002. This held true until a few years in to the reign of PM Stephen Harper, whose government shut off the funds for cultural exchange to the US. I'm hopeful the cultural outreach will be restored and reinvigorated under PM Justin Trudeau.
Maillet is a mighty woman of rather short stature, and quite striking in appearance. We found that the lectern reserved for her was too tall, and unaccountably the venue had no stool or riser for her to stand on. Fortunately, I found a big box holding many reams of photocopy paper and at this ultra white-shoe venue she stood atop it to read from her novel, and lecture in a forceful, accented English about the French vernacular in which she wrote the book, and much of her work. Though I don't think she called it Chiac, she described the local tongue, and its grounding in the French spoken by arrivals in the new world beginning in the 16th century. She likened it to speaking the French of Rabelais, who I note died in 1555! She described the settlers' remoteness from French in Europe, as France advanced in to the industrial revolution, an isolation that set the local language, as if trapped in amber. Maillet has also created theater characters like La Sagouine, a wise old woman who tells audiences stories and imparts lore, using the local vernacular. I feel like the live theatre piece must form the heart of Chiac. Maillet's accomplishments are truly a marvel to be celebrated. I first learned of her when as a bookseller with Undercover Books in Cleveland, when in 1979, with an earlier novel—Pélagie-la-Charrette, or Return to the Homeland, an epic account of the Acadian expulsion, a diaspora that scattered them to other parts of North America, including Louisiana, where the Acadiennes, become Cajuns—she became the only North American writer, male or female, to win France's most prestigious book prize, the Prix Goncourt.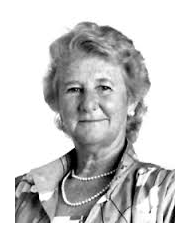 I was aware that people of Acadian descent still maintain a kind of linguistic flavor now rare in the modern world, but was delighted to learn so much more about it in this excellent half-hour of radio. I love language stuff like this, all the better when it's about one of my favorite countries, and one of my favorite regions in that country! Below is some detail from the podcast's web page, which you can listen to in full here.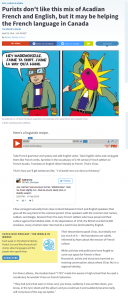 Browse by Month:
Browse by Category:
Browse by Tag:
#elexn42
#ToPoli
60 MInutes
1993
2015 elections
2015 Federal Election
2016 presidential election
@CBCRadio3
Abraham Lincoln
Acadia
Adolf Hitler
Agent Orange
Alice Munro
Amanda Lang
Amelia Curran
Amity Beach
Amtrak
Anderson Varajao
Antonine Maillet
architecture
Arctic Ocean
Arkells
AUX TV
Ben Caplan
Beverley Slopen
book-to-film adaptations
Born Ruffians
Boyhood
Brain Cloud
branding exercises
Brandon Downing
bullying
Cabot Trail
Calvin Reid
Canada
Canadiana
Canadian authors
Canadian bands in NYC
Canadian Blast
Canadian elections
Canadian indie music
canadian indie rock
Canadian indie rock n' roll
canadian politics
Canadian rock n' roll
Canadians abroad
Canadian vacations
cancer
CANlit
CANRock
Cape Breton
CBC
CBC Books
CBC Music
CBC Radio
CBC Radio 3
CBC Sunday Edition
CBS
Chicago
Cleveland
CMJ
CMJ Music Marathon
CN Tower
coffee
Cold War
Colm Toibin
comedy
Communion Music
Corb Lund
corruption
covert agents
cowboy culture
Crime Writers of Canada
cross-cultural writing
Daniel Canty
Dave Bidini
Dave Van Ronk
David Margolick
Del Barber
depression
dialect
Doug Ford
drunk driving
editorial services
Edward Keenan
Edward Robb Ellis
Elizabeth May
Elliott Brood
Ethan Hawke
Ewan Turner
fair housing
Farley Mowat
Fence Books
flickr
folk music
Franconia College
Frazey Ford
French
FridayReads
Gaspé Peninsula
George Elliott Clarke
George Washington Bridge
Gill Deacon
global climate change
Grant Lawrence
Greenwich Village
Harlan Pepper
Henry Tandey
Hidden Pony
HIGHS
hockey
Hollerado
Honourary Canadian
Howard Engel
humor
Ian Tyson
indie music
In Flight Safety
Ireland
Irish music
Israel
Jan Wong
Jian Ghomeshi
Jill Barber
Joe's Pub
journalism
Justin Trudeau
Kathryn Kuitenbrouwer
Kevin Donovan
Keystone XL
Lee's Palace
Lee Harvey Osmond
Lee Lorch
Leonard Cohen
life after corporate publishing
Linda Ronstadt
Lisa LeBlanc
Little Red Lighthouse
Little Rock Nine
live music
Lo-Fantasy
lower east side
Lt. General Roméo Dallaire
Marc Maron
marijuana laws
Matt Andersen
Matt Mays
Mayor Bill de Blasio
Mayor Rob Ford
McGarrigle Sisters
Megan Bonnell
Mellow Pages
Memoirs
mental health treatment
Mercury Lounge
methane
M for Montreal
Michael Barclay
Michael Enright
Michael Ruby
Miles O'Brien
Mo Kenney
Monomyth
music festivals
music marketing
National Film Board of Canada
Neil Young
Neil Young. Third Man Records
Nevado Records
Newfoundland
New York City
New York music venues
Noah
Nobel Prize
NXNE
Olympics
Ontario
Ottawa Jazz Festival
Paperbag Records
Parks Canada
Percé Rock
Peter Warner
photojournalism
podcasting
poetry
political mindsets
President Obama
prosthetics
PS I Love You
PTSD
PublishersMarketplace.com
Publishers Weekly
Pumpkin Pie
Q
Quebec
racial bias
Rah Rah
Random House Canada
road trips
Robert Henry Adams
Robertson Davies
Rob Ford
Rockwood Music Hall
Rolling Stone
Rural Alberta Advantage
Ruth Gruber
Sadies
Said the Whale
Sam Roberts Band
SaskMusic
SaskMusic.org
satire
Scott Young
sex education
Shawn William Clark
Shore Fire Media
short stories
Siberia
sister cities
spy novels
Stephen Harper
Stephen Marche
St Louis
Stompin' Tom Connors
Strombo Show
Strumbellas
suicide prevention
summer vacation 2014
Swiss Water
Syrian refugees
Talonbooks
Thanksgiving
The Ballad of Crowfoot
The Deep Dark Woods
The Great Gray Bridge.
TheGreatGrayBridge.com
The Orchard
The Revenant
The Strumbellas
This is That
Toronto
Toronto Book Awards
Toronto mayoral election
Toronto Star
Torquil Campbell
traditional music
Turnip King
Ugly Duckling Presse
Undercover Books
upper Manhattan
Vancouver
Vietnam
W.B. Belcher
war memorials
Wigrum
Wilderness of Manitoba
WWI