NYC Launch of Daniel Canty's Playful "Wigrum: An Inventory Novel" at Mellow Pages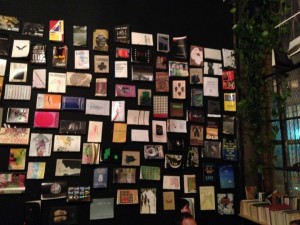 Wednesday night at Brooklyn's Mellow Pages Library and Reading Room francophone novelist from Quebec, Daniel Canty and his translator Oana Avasilichioaei, jointly read from his book, newly published in English, Wigrum, subtitled by publisher Talonbooks of Vancouver BC, An Inventory Novel. Canty and Avasilichioaei were joined by poets Brandon Downing and Michael Ruby.
It was my first time at Mellow Pages, and I found it a very genial place for presentations and literary appreciation. Located in the same loft building on Bogart Street in Bushwick that houses the art gallery Studio 10, very near the Morgan Street 'L" train subway stop, Mellow Pages is a big square-ish room with a stamped-tin ceiling high overhead, wide windows of the sort with wire mesh threaded through the glass, and two walnut-paneled walls festooned with chapbooks, zines, monographs, and printed material of all kinds. Along the walls, bookcases and shelving combos were arranged, with books on vertical and horizontal axes. The chapbooks and zines, being so thin and hard to shelve, were hung, and in some places fastened to hangers on the walls.
Jacob, co-proprietor of Mellow Pages, kicked things off by describing how the library and reading room works–people can pay to be a member; as well, if you donate 10 books to the library's inventory, you're a member. Their tumblr includes this statement: "Mellow Pages is an independently-run library & reading room located in Brooklyn, NY focusing on providing limited-print fiction and poetry to the neighborhoods of Bushwick, East Williamsburg and Bed-Stuy. With a collection of over 1,200 titles and zines, come check out the space and have a coffee, crack into a new one."
After Jacob finished his set-up, before the readings began, Brandon Downing asked me to say something about Talonbooks, and I obliged, mentioning their Vancouver location; their extensive list of contemporary Canadian playwrights; They Called Me Number One, a memoir of surviving the punitive residential school system by Chief of the Soda Creek First Nation band Bev Sellars, #1 bestseller in British Columbia; their poetry and translated fiction list, with such examples as Wigrum.
Brandon was then the first reader, presenting several multi-part poems from his current collection, coincidentally titled Mellow Actions (Fence Books, 2013). He said that unlike the truly mellow vibe of the library and reading room where we sat, he'd chosen his title a bit sardonically. In fact, several of Downing's poems expressed honest anger, always a tonic to hear read aloud, with anger so often suppressed in polite company. He was followed by Michael Ruby, who in a nod to the evening's Pacific Northwest motif, read three longish poems inspired by Seattle's hometown rock heroes, Jimi Hendrix and Kurt Cobain, from his American Songbook (Ugly Duckling Presse, 2013).
Then Daniel and Oana moved to the front of the room and, trading off, they read alternating sections from Wigrum. I'd been dipping in to the book all week in advance of the reading and found it to be an ingenious creative enterprise. The novel is ostensibly the census of an idiosyncratic collection of objects, owned at one time by the elusive figure, Sebastian Wigrum. The printed book itself is beautifully presented with crisp typography and clean design on bright white paper. Precise drawings, each one well printed, depict each of the 149 objects in Wigrum's mysterious collection. This imaginary world has also produced a novel with marginal notes and an index. Here's a list of five of the objects catalogued and described herein:
1) a feather from the wings of Icarus;
2) Holden Caulfield's "ear-flap hat";
3) a handkerchief that William Faulkner had asked be tucked in his funeral suit, though it never was;
4) a set o keys called the "Come and Gone Keys"; and
5) a special egg that P.T. Barnum held in his museum of marvels. As the book reads on page 74, Barnum once had occasion to show it to Benjamin Franklin,: "On tiptoe, [Barnum] led the philosopher to his desk, extracted this egg from a drawer stuffed with banknotes, telling him the daughter of Cristobal Colon slumbered forever within, and that if he brought the egg close to his ear he would hear an endless refrain of all Native American nouns of animals and plants. Barnum dropped the egg while handing it to Franklin, spattering his forick coat. He apologized, profusely, but Franklin obviously thought the business was putting him on again. He makes no mention of the incident in his Autobiography."  
Their reading was very well received, with everyone enjoying Wigrum's humor and philosophical play. Book sales and informal conversation followed. I took a few photographs during the readings and was pleased to see, blinking through the window behind the readers, the lights of the Chrysler Building. Barely a half-hour subway ride from Midtown Manhattan, this view typifies how easy it is to visit Mellow Pages. I'm sure I'll be coming back for a return visit soon. Here are those pictures:
Browse by Month:
Browse by Category:
Browse by Tag:
#elexn42
#ToPoli
60 MInutes
1993
2015 elections
2015 Federal Election
2016 presidential election
@CBCRadio3
Abraham Lincoln
Acadia
Adolf Hitler
Agent Orange
Alice Munro
Amanda Lang
Amelia Curran
Amity Beach
Amtrak
Anderson Varajao
Antonine Maillet
architecture
Arctic Ocean
Arkells
AUX TV
Ben Caplan
Beverley Slopen
book-to-film adaptations
Born Ruffians
Boyhood
Brain Cloud
branding exercises
Brandon Downing
bullying
Cabot Trail
Calvin Reid
Canada
Canadiana
Canadian authors
Canadian bands in NYC
Canadian Blast
Canadian elections
Canadian indie music
canadian indie rock
Canadian indie rock n' roll
canadian politics
Canadian rock n' roll
Canadians abroad
Canadian vacations
cancer
CANlit
CANRock
Cape Breton
CBC
CBC Books
CBC Music
CBC Radio
CBC Radio 3
CBC Sunday Edition
CBS
Chicago
Cleveland
CMJ
CMJ Music Marathon
CN Tower
coffee
Cold War
Colm Toibin
comedy
Communion Music
Corb Lund
corruption
covert agents
cowboy culture
Crime Writers of Canada
cross-cultural writing
Daniel Canty
Dave Bidini
Dave Van Ronk
David Margolick
Del Barber
depression
dialect
Doug Ford
drunk driving
editorial services
Edward Keenan
Edward Robb Ellis
Elizabeth May
Elliott Brood
Ethan Hawke
Ewan Turner
fair housing
Farley Mowat
Fence Books
flickr
folk music
Franconia College
Frazey Ford
French
FridayReads
Gaspé Peninsula
George Elliott Clarke
George Washington Bridge
Gill Deacon
global climate change
Grant Lawrence
Greenwich Village
Harlan Pepper
Henry Tandey
Hidden Pony
HIGHS
hockey
Hollerado
Honourary Canadian
Howard Engel
humor
Ian Tyson
indie music
In Flight Safety
Ireland
Irish music
Israel
Jan Wong
Jian Ghomeshi
Jill Barber
Joe's Pub
journalism
Justin Trudeau
Kathryn Kuitenbrouwer
Kevin Donovan
Keystone XL
Lee's Palace
Lee Harvey Osmond
Lee Lorch
Leonard Cohen
life after corporate publishing
Linda Ronstadt
Lisa LeBlanc
Little Red Lighthouse
Little Rock Nine
live music
Lo-Fantasy
lower east side
Lt. General Roméo Dallaire
Marc Maron
marijuana laws
Matt Andersen
Mayor Bill de Blasio
Mayor Rob Ford
McGarrigle Sisters
Megan Bonnell
Mellow Pages
Memoirs
mental health treatment
Mercury Lounge
methane
M for Montreal
Michael Barclay
Michael Enright
Michael Ruby
Miles O'Brien
Mo Kenney
Monomyth
music festivals
music marketing
National Film Board of Canada
Neil Young
Neil Young. Third Man Records
Nevado Records
Newfoundland
New York City
New York music venues
Noah
Nobel Prize
NXNE
Olympics
Ontario
Ottawa Jazz Festival
Paperbag Records
Parks Canada
Percé Rock
Peter Warner
photojournalism
podcasting
poetry
political mindsets
President Obama
prosthetics
PS I Love You
PTSD
PublishersMarketplace.com
Publishers Weekly
Pumpkin Pie
Q
Quebec
racial bias
Rah Rah
Random House Canada
road trips
Robert Henry Adams
Rob Ford
Rockwood Music Hall
Rolling Stone
Rural Alberta Advantage
Ruth Gruber
Sadies
Said the Whale
Sam Roberts Band
SaskMusic
SaskMusic.org
satire
Scott Young
sex education
Shawn William Clark
Shore Fire Media
short stories
Siberia
sister cities
spy novels
Stephen Harper
Stephen Marche
St Louis
Stompin' Tom Connors
Strombo Show
Strumbellas
suicide prevention
summer vacation 2014
Swiss Water
Syrian refugees
Talonbooks
Thanksgiving
The Ballad of Crowfoot
The Deep Dark Woods
TheGreatGrayBridge.com
The Orchard
The Revenant
The Strumbellas
This is That
Toronto
Toronto Book Awards
Toronto mayoral election
Toronto Star
Torquil Campbell
traditional music
Turnip King
Ugly Duckling Presse
upper Manhattan
Vancouver
Vietnam
W.B. Belcher
war memorials
Wigrum
Wilderness of Manitoba
WWI