---
After seven years formative experience operating Undercover Books, a three-store independent bookstore chain in Cleveland, Ohio, in 1986 I began working as a book editor. For nearly three decades I have held a number of senior positions with major publishers in New York City, acquiring and publishing many notable titles, and as an independent editor, publishing consultant, and blogger. As Senior Editor and Editor-in-Chief of Kodansha America and Kodansha Globe from 1992-1997, I published the first paperback edition of Barack Obama's Dreams From My Father: A Story of Race and Inheritance (1996).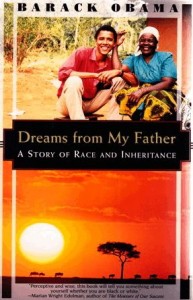 Publishing Truthtellers
As Executive Editor of Times Books, then a division of Random House, I was the imprint's liaison to the New York Times and published books with the editors of the NY Times Book Review, and such Times departments as Real Estate, Dining, Movies, City, and Health. At Times Books I also published DEAD RUN: The Shocking Story of Dennis Stockton and Life on Death Row in America, a nonfiction narrative by Joe Jackson and Bill Burke with an Introduction by William Styron, chronicling an innocent man on Death Row in Virginia. With Crown Publishing, also a division of Random House, I acquired the international bestseller by Edwin Black, IBM & THE HOLOCAUST: The Strategic Alliance Between Nazi Germany and America's Most Powerful Corporation (2000). While Executive Editor and Editor-in-Chief with Carroll & Graf from 2000-2006, I edited and published the New York Times and Washington Post bestsellers THE POLITICS OF TRUTH: Inside the Lies that Put the White House on Trial and Betrayed My Wife's CIA Identity (2004) by Ambassador Joseph Wilson (which later became the basis in part for the film, "Fair Game"); THE WOMAN WHO WOULDN'T TALK: Why I Refused to Testify Against the Clintons and What I Learned in Jail (2001) by Susan MacDougal, with an Introduction by Helen Thomas; and SHAKE HANDS WITH THE DEVIL: The Failure of Humanity in Rwanda by Lt. Gen. Roméo Dallaire. As Editorial Director of Union Square Press, in 2008 I edited and published COVERT: MY Years Infiltrating the Mob by NBA referee Bob Delaney with Dave Scheiber, a USA TODAY Best Book of the Year and THE UNITED STATES V. I. LEWIS LIBBY, edited and with reporting by Murray Waas, comprising the trial transcript from Special Prosecutor Patrick J. Fitzgerald's case against Dick Cheney's Chief of Staff and public records essential to understanding the destructive leak of Valerie Plame's CIA identity by members of the Bush administration. As an editor and publisher I have always felt impelled to publish books by and about singular witnesses–whistleblowers, truthellers, muckrakers, revisionist historians–people who've passed through some crucible of experience that's left them with elevated author-ity, and by definition the only person who could write the book in question, or about whom it could be written. Whether told in the first person by an author who has passed through some crucible of experience that leaves him or her uniquely qualified to tell the tale or in the third person by a reporter or scholar who has pursued a story or historical episode with single-minded passion, I am devoted to publishing imperative nonfiction, books that really matter in people's lives.
Eyewitnesses to History
I have also published six books with Ruth Gruber, the remarkable photojournalist, now 100 years old, who in May 2011 received the International Center of Photography's Cornell Capa Infinity Award [Update: Ruth turned 102 on Sept, 30,  2013]. Five of Gruber's books, including AHEAD OF TIME: My Early Years as a Foreign Correspondent (also the title of a 2011 documentary on her), are now available as ebooks from Open Road Integrated Media.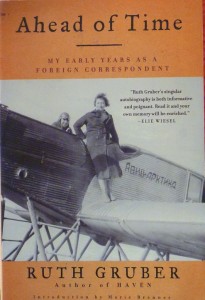 The list of titles I've published over the years reflects my deep personal interest in books about the media, from the print, online, and broadcast worlds. These include A DIARY OF THE CENTURY: Tales from America's Greatest Diarist by Edward Robb Ellis (1995); THE WELL: A Story of Love, Death & Real Life in the Seminal Online Community by NY Times reporter Katie Hafner, originally a cover article in Wired magazine (2001); AHMAD'S WAR, AHMAD'S PEACE: Surviving Under Saddam, Dying in the New Iraq by Michael Goldfarb, longtime NPR correspondent (2004); and REGRET THE ERROR: How Media Mistakes Pollute the Press and Imperil Free Speech by Craig Silverman, founder of RegretTheError.com (2008); and THE DEEDS OF MY FATHERS: How My Grandfather and Father Built New York and Created the Tabloid World of Today–Generoso Pope, Sr., Power Broker of New York and Gene Pope, Jr., Publisher of the National Enquirer by Paul David Pope.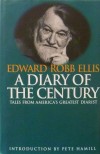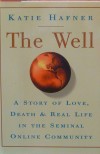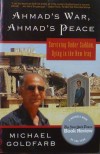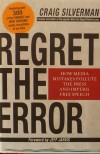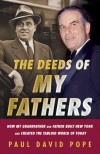 Hono(u)rary Canadian
As a native of the Great Lakes region, I also have a keen affinity for Canadian books and authors. I see the book world of the U.S.'s upper Midwest and Canada's southern tier (and one might argue, the whole of the Pacific Northwest) as contiguous literary cultures. As an Ohio bookseller, I introduced thousands of U.S. readers to such Canadian authors as Robertson Davies, Margaret Atwood, Mordecai Richler, Margaret Laurence, Timothy Findley Farley Mowat, Pierre Berton, and the CBC broadcaster Patrick Watson. As an editor and publisher, I broadened that effort, publishing U.S. editions of books by Atwood, Richler, Mowat, Berton, and Dallaire, as well as Paul Quarrington, Antonine Maillet, Ken McGoogan, Julian Sher, William Marsden, Elaine Dewar, Bonnie Buxton, Howard Engel, Joan Barfoot, George Eliot Clarke, Steven Galloway, Joel Hynes, Paul Anderson, Sheila Munro, and Jan Lars Jensen, among others. I've written elsewhere on this site about my affinity for Canadian culture on a page called Why I Write This Blog.
Indie Editorial and Publishing Services
Nowadays, as an editor, author representative, and publishing consultant I am still shaped by the years I spent as a buyer and merchandiser for my bookstores. The book market has become ever more competitive and crowded with hundreds of thousands of titles, and I have increasingly become devoted to publishing authors who have passed through a crucible of experience that leaves him or her uniquely qualified to tell the tale. I call these "imperative" books, ones that really matter in people's lives. Meantime, I'm also exploring new publishing opportunities for narrative journalists in longform reporting, both as ebooks and print editions, inspired by emerging models like theatavist.net, byliner.com, and Kindle Singles.
Since 2009 I have operated Philip Turner Book Productions, an editorial services business in which I edit books, represent select projects to publishers, and consult with authors on their work. I live and work in New York City with my wife, artist Kyle Gallup, and our teenage son Ewan, an actor and writer in high school. I am an active participant in numerous literary and cultural organizations. A partial list of memberships, affiliations, and interests:
• Member, PEN America Center and contributor to the PEN blog at http://bit.ly/g8Es9j.
• Contributor, PW Comics World, http://bit.ly/GWMO4a and http://bit.ly/HrbdNi
• Chair, Membership Committee, Book Table, publishing industry monthly lunch club.
• Attended Book Camp NYC, an unconference, Dec. 2010, Feb. 2011, Feb. 2012 and Digital Book World, Feb. 2011 and Jan. 2012;
• Associate member of National Book Critics Circle;
• Member, Personal Democracy Forum, community that explores the intersection among politics, technology, media, and culture;
• Guest Instructor 2008-2012, CUNY Graduate School of Journalism's Winter Academy;
• Member, CBC Radio 3′s informal music and blogging community, http://music.cbc.ca/#/profile/PhilipST