Farewell to a Great Canadian, Farley Mowat
RIP Farley Mowat–such a great Canadian. I got to publish 3 of his books in the US, inc a revival of his 1st, PEOPLE OF THE DEER.

— Philip Turner (@philipsturner) May 7, 2014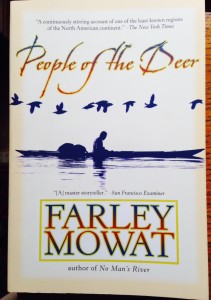 I'm sad about Farley Mowat's passing. What a great Canadian, and such a conscious dweller on the planet. He righteously raged about ill treatment of people and wildlife and abuse of water and air long before Earth Day was a yearly observance. Margaret Atwood's praise is fulsome:
"Farley Mowat's books have marked Xs in the sand, and have struck their own igniting sparks….His rage can be Swiftean, his humour Puckish, but his compassion for all creatures great and small has been consistent."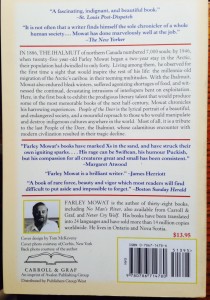 I had the privilege of publishing three of Farley's books in the States, including a revival of People of the Deer, his debut, first published in 1951, about the prodigious caribou migrations in the far north which he observed as a young scientist, and the indigenous peoples who relied on the herds for their subsistence and sustenance. He focused on a particular tribe, the Ihalmuit, who had been very badly treated by the Canadian government. He reported on it all in compelling detail and with a fluent narrative that was inherently enjoyable; for an avid reader, this book, all the books of his that I've read—about fifteen out of his forty or so titles—were so enjoyable, they practically read themselves. His books were often secular crusades for better treatment of wild things. Though I never met Farley, and only spoke with him briefly one time by phone, I've long felt a personal connection to him. I read his best known book Never Cry Wolf, for a middle school class, always remembered his name, and looked for his titles. In early adulthood, when I opened Undercover Books with my family, we ordered, stocked and sold Farley's titles. Later, as an editor and publisher I began looking for Canadian books to which I could acquire the rights to publish in distinctive US editions. I enjoyed presenting Canadian culture to Americans.
A serendipitous encounter on a Canadian road trip made with my wife in 1993
In the autumn of that year we were touring Cape Breton Island and driving its scenic Cabot Trail—think of it as the Big Sur of North America's east coast—when we came upon the wee village of Margaree Harbour, hard by the Gulf of St. Lawrence. We stopped at a local establishment called the Hungry Piper Gift Shop & Tea Room, a charming spot that sold woolens, tartan ties, Celtic music cassettes, items emblazoned in Gaelic, Cabot Trail postcards, local crafts, and served light fare. We soon met the shop's proprietors, the May family, a clan with whom Kyle and I became fast friends. They were John and Stephanie May, a married couple, and their grown son Geoffrey, married to Rebecca Lynne. We learned from Stephanie, a voluble storyteller, that they'd come from Connecticut originally, and that they'd moved north during the Vietnam War, lest Geoffrey be exposed to the U.S. military draft. John had held an executive position with an insurer in Hartford, and Stephanie was politically active, working for a nuclear freeze and on the McGovern for President campaign in 1972—alongside a young Arkansan named Bill Clinton, who in 1992 of course had been elected U.S. President. The Mays' decision to move was also triggered after Stephanie discovered she'd earned a spot on President Richard Nixon's sinister "enemies list."
By 1993 when we met, the Mays had been thoroughly ensconced in Canada for almost twenty years. On the property with their shop was a sort of derelict schooner, rather incongruous in their parking area. Upon close inspection I saw emblazoned on the side was the name "The Happy Adventure," the very boat that Farley Mowat wrote about in his very funny book, The Boat Who Wouldn't Float. (It opens with him buying the boat at an auction, going halves on it with his friend and publisher, Jack McClelland of McClelland & Stewart.) The Mays were friends with Farley, who donated the broke-down vessel in hopes it would prove a tourist attraction for them.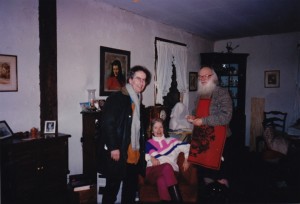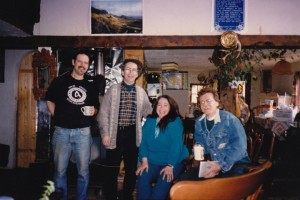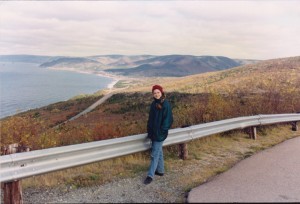 Stephanie and John had another child, a grown daughter named Elizabeth who was the head of the Sierra Club of Canada, living in a distant city. She owned a little house, also in Margaree Harbour, not in use, which the Mays suggested we could rent during our stay. Kyle and I took them up on it, and with a spirit of adventure undimmed by the fact the house had little heat and hot water, we loved our time there, nearly a week. I had a portable radio with me, and so got to hear the Toronto Blue Jays win the World Series, when Joe Carter hit his walk-off homer in Game 6, made indelible by his jubilant romp around the basepaths. A couple nights later we joined Geoffrey and Rebecca Lynne at their home for dinner. This happened to be the day of a Canadian federal election, and Geoffrey invited us to stick around and watch election returns with them. It turned out to be an amazing night, as this was the election in which the federal tories were entirely swept out of power in one of the most lopsided defeats ever in the history of modern elections. It was a celebratory evening—for comparison's sake, imagine all Republican officeholders in the U.S. losing on the same day!
Our landlord for the week, Elizabeth May, has since become an important Canadian politician, leader of Canada's Green Party, and the first Green Party member of the Canadian Parliament. Elizabeth has been giving some very moving interviews today, about the long friendship she and Farley shared, including one on CBC's As It Happens. She had been looking forward to wishing him a happy 93rd birthday, which would have come next Monday, May 12. She also put a moving statement on her website.  I remain in touch with Geoffrey May, an advocate for Gaelic education. The books of Farley Mowat, and road trips like the one in Cape Breton, have made Canada an indelible part of my mental and emotional landscape. I'm sorry he's gone, but marvel at the thought of his forty books, translated in to more than fifty languages, selling collectively some fifteen million copies. What a grand authorial career. In the gallery below are pictures of all of Farley's books in my home library.
Browse by Month:
Browse by Category:
Browse by Tag:
#elexn42
#ToPoli
60 MInutes
1993
2015 elections
2015 Federal Election
2016 presidential election
@CBCRadio3
Abraham Lincoln
Acadia
Adolf Hitler
Agent Orange
Alice Munro
Amanda Lang
Amelia Curran
Amity Beach
Amtrak
Anderson Varajao
Antonine Maillet
architecture
Arctic Ocean
Arkells
AUX TV
Ben Caplan
Beverley Slopen
book-to-film adaptations
Born Ruffians
Boyhood
Brain Cloud
branding exercises
Brandon Downing
bullying
Cabot Trail
Calvin Reid
Canada
Canadiana
Canadian authors
Canadian bands in NYC
Canadian Blast
Canadian elections
Canadian indie music
canadian indie rock
Canadian indie rock n' roll
canadian politics
Canadian rock n' roll
Canadians abroad
Canadian vacations
cancer
CANlit
CANRock
Cape Breton
CBC
CBC Books
CBC Music
CBC Radio
CBC Radio 3
CBC Sunday Edition
CBS
Chicago
Cleveland
CMJ
CMJ Music Marathon
CN Tower
coffee
Cold War
Colm Toibin
comedy
Communion Music
Corb Lund
corruption
covert agents
cowboy culture
Crime Writers of Canada
cross-cultural writing
Daniel Canty
Dave Bidini
Dave Van Ronk
David Margolick
Del Barber
depression
dialect
Doug Ford
drunk driving
editorial services
Edward Keenan
Edward Robb Ellis
Elizabeth May
Elliott Brood
Ethan Hawke
Ewan Turner
fair housing
Farley Mowat
Fence Books
flickr
folk music
Franconia College
Frazey Ford
French
FridayReads
Gaspé Peninsula
George Elliott Clarke
George Washington Bridge
Gill Deacon
global climate change
Grant Lawrence
Greenwich Village
Harlan Pepper
Henry Tandey
Hidden Pony
HIGHS
hockey
Hollerado
Honourary Canadian
Howard Engel
humor
Ian Tyson
indie music
In Flight Safety
Ireland
Irish music
Israel
Jan Wong
Jian Ghomeshi
Jill Barber
Joe's Pub
journalism
Justin Trudeau
Kathryn Kuitenbrouwer
Kevin Donovan
Keystone XL
Lee's Palace
Lee Harvey Osmond
Lee Lorch
Leonard Cohen
life after corporate publishing
Linda Ronstadt
Lisa LeBlanc
Little Red Lighthouse
Little Rock Nine
live music
Lo-Fantasy
lower east side
Lt. General Roméo Dallaire
Marc Maron
marijuana laws
Matt Andersen
Matt Mays
Mayor Bill de Blasio
Mayor Rob Ford
McGarrigle Sisters
Megan Bonnell
Mellow Pages
Memoirs
mental health treatment
Mercury Lounge
methane
M for Montreal
Michael Barclay
Michael Enright
Michael Ruby
Miles O'Brien
Mo Kenney
Monomyth
music festivals
music marketing
National Film Board of Canada
Neil Young
Neil Young. Third Man Records
Nevado Records
Newfoundland
New York City
New York music venues
Noah
Nobel Prize
NXNE
Olympics
Ontario
Ottawa Jazz Festival
Paperbag Records
Parks Canada
Percé Rock
Peter Warner
photojournalism
podcasting
poetry
political mindsets
President Obama
prosthetics
PS I Love You
PTSD
PublishersMarketplace.com
Publishers Weekly
Pumpkin Pie
Q
Quebec
racial bias
Rah Rah
Random House Canada
road trips
Robert Henry Adams
Robertson Davies
Rob Ford
Rockwood Music Hall
Rolling Stone
Rural Alberta Advantage
Ruth Gruber
Sadies
Said the Whale
Sam Roberts Band
SaskMusic
SaskMusic.org
satire
Scott Young
sex education
Shawn William Clark
Shore Fire Media
short stories
Siberia
sister cities
spy novels
Stephen Harper
Stephen Marche
St Louis
Stompin' Tom Connors
Strombo Show
Strumbellas
suicide prevention
summer vacation 2014
Swiss Water
Syrian refugees
Talonbooks
Thanksgiving
The Ballad of Crowfoot
The Deep Dark Woods
The Great Gray Bridge.
TheGreatGrayBridge.com
The Orchard
The Revenant
The Strumbellas
This is That
Toronto
Toronto Book Awards
Toronto mayoral election
Toronto Star
Torquil Campbell
traditional music
Turnip King
Ugly Duckling Presse
Undercover Books
upper Manhattan
Vancouver
Vietnam
W.B. Belcher
war memorials
Wigrum
Wilderness of Manitoba
WWI