When People Wish They Could Re-chart the Course of History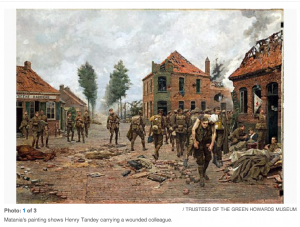 Kudos to the Toronto Star for running this story on a fascinating historical what-if that is examined in a new nonfiction book, The Man Who Didn't Shoot Hitler: The Story of Henry Tandey VC and Adolf Hitler, 1918 by David Johnson. In a surprising twist, the mystery, a sort of urban legend about Hitler, is rooted in the painting shown here, depicting the aftermath of a battle in France, in 1914, early in WWI.
Star reporter Stephanie MacLellan writes that the oil painting—featuring the most-decorated British private, Henry Tandey, carrying a comrade on his shoulders—was commissioned in 1923 by Tandey's regiment, the Green Howards, executed by war artist Fortunino Matania from a drawing made by a company draughtsman during a lull in fighting when a military hospital was being evacuated.
Many historians, including Tandey biographer Johnson, believe that Hitler was prone to embellishing his WWI record. For instance, his work as a runner, shuttling messages, was entirely behind friendly lines, not near hostilities. MacLellan picks up the tale in the 1930s, after Hitler had been elected to the office of German Chancellor:
"One of the German medical officers at First Ypres, [had been] a Dr. Schwend, [who] went on to join Hitler's staff. According to Tandey biographer Johnson, Schwend stayed in touch with one of the British soldiers he treated, and in December 1936, the soldier sent him a copy of the Matania painting…. Hitler had his staff order a large photograph of the painting from the Green Howards. His aide sent a note thanking them for the artwork that captured a scene from Hitler's first battle: 'The Fuehrer is naturally very interested in things connected with his own war experiences. He was obviously moved when I showed him the picture. He has directed me to send you his best thanks for your friendly gift which is so rich in memories.'
"Hitler hung the photo in the study of his Bavarian retreat. It was here in September 1938, the story goes, that it was spotted by British Prime Minister Neville Chamberlain, who had come to Germany in his famed attempt to secure 'peace in our time.' According to [a] 1940 Canadian Press story, Chamberlain asked his host about this unusual artistic choice. 'That man came so near to killing me that I thought I should never see Germany again,' Hitler told him, pointing to Tandey. 'Providence saved me from such devilish accurate fire as those English boys were aiming at us.' On his return to England, Chamberlain telephoned Tandey at home to relay the story. To biographer Johnson, this is where the story starts to fall apart—starting with the fact that Tandey didn't have a home telephone."
The legend began with that inaccurate article in 1940, which according to MacLellan, left readers with the idea that, as Germans were routed from a battle at Marcoing, "one of them caught Tandey's attention. He was quoted at the time, 'I was going to pick him off, but he was wounded, and I didn't like to shoot a wounded man,' he said, according to the Canadian Press story that ran on the Toronto Star's front page. Tandey didn't know it at the time, he said, but the wounded German he had in his sights was Hitler, then a 29-year-old dispatch runner with the Bavarian army. It's one of the most tantalizing what-ifs in history: What would have happened if Tandey had killed Hitler in World War I when he had the chance? The only problem, historians say, is that the incident probably never happened."
"A more likely possibility, according to historian Thomas Weber [author of Hitler's First War is that Hitler]— ever the embellisher—used the Tandey story to win political points with Chamberlain, who had come looking for assurances of peace. 'I think it was just a good tool for Hitler to tell Chamberlain the story of an amicable Anglo-German encounter that he had….Hitler had an incredible talent to tell people he met exactly what they wanted to hear.' And if he was going to have his life spared by a British soldier, who better than a famous war hero who had won a Victoria Cross, Military Medal and Distinguished Conduct Medal in a matter of weeks? In other words, Tandey."
In addition, MacLellan reports that Hitler's service records show that he couldn't have been near Marcoing, where Tandey certainly was, on the dates in question. MacLellan and her sources fall squarely in the skeptical camp. Their reporting makes it seem remarkable that for the past several decades there have been people who believed a British soldier might've killed Adolf Hitler long before WWII, but declined to pull the trigger. For his part, in later years, Tandey doubted it happened at all.
Counter-factuals in historical reading are fun to make up and consider, but sometimes a purported counter-factual may just be non-factual. I think this example, probably more urban legend than anything else, points to our human impulse in which we wish we could erase terrible things from our memories and our common history. How much better the world would've been better off if Hitler hadn't even been alive in the 1930s. To the mindset that believes in something like Henry Tandey's lamentable decency at not finishing off a wounded enemy soldier, there is the accompanying, "But, he might've done it," therefore keeping alive the hope it needn't have occurred. This incident also reminds that errors and mis-reporting in news stories can have a knock-on effect lasting decades! I recommend you read Stephanie MacLellan's whole article, one of the best reads in today's papers.
Browse by Month:
Browse by Category:
Browse by Tag:
#elexn42
#ToPoli
60 MInutes
1993
2015 elections
2015 Federal Election
2016 presidential election
@CBCRadio3
Abraham Lincoln
Acadia
Adolf Hitler
Agent Orange
Alice Munro
Amanda Lang
Amelia Curran
Amity Beach
Amtrak
Anderson Varajao
Antonine Maillet
architecture
Arctic Ocean
Arkells
AUX TV
Ben Caplan
Beverley Slopen
book-to-film adaptations
Born Ruffians
Boyhood
Brain Cloud
branding exercises
Brandon Downing
bullying
Cabot Trail
Calvin Reid
Canada
Canadiana
Canadian authors
Canadian bands in NYC
Canadian Blast
Canadian elections
Canadian indie music
canadian indie rock
Canadian indie rock n' roll
canadian politics
Canadian rock n' roll
Canadians abroad
Canadian vacations
cancer
CANlit
CANRock
Cape Breton
CBC
CBC Books
CBC Music
CBC Radio
CBC Radio 3
CBC Sunday Edition
CBS
Chicago
Cleveland
CMJ
CMJ Music Marathon
CN Tower
coffee
Cold War
Colm Toibin
comedy
Communion Music
Corb Lund
corruption
covert agents
cowboy culture
Crime Writers of Canada
cross-cultural writing
Daniel Canty
Dave Bidini
Dave Van Ronk
David Margolick
Del Barber
depression
dialect
Doug Ford
drunk driving
editorial services
Edward Keenan
Edward Robb Ellis
Elizabeth May
Elliott Brood
Ethan Hawke
Ewan Turner
fair housing
Farley Mowat
Fence Books
flickr
folk music
Franconia College
Frazey Ford
French
FridayReads
Gaspé Peninsula
George Elliott Clarke
George Washington Bridge
Gill Deacon
global climate change
Grant Lawrence
Greenwich Village
Harlan Pepper
Henry Tandey
Hidden Pony
HIGHS
hockey
Hollerado
Honourary Canadian
Howard Engel
humor
Ian Tyson
indie music
In Flight Safety
Ireland
Irish music
Israel
Jan Wong
Jian Ghomeshi
Jill Barber
Joe's Pub
journalism
Justin Trudeau
Kathryn Kuitenbrouwer
Kevin Donovan
Keystone XL
Lee's Palace
Lee Harvey Osmond
Lee Lorch
Leonard Cohen
life after corporate publishing
Linda Ronstadt
Lisa LeBlanc
Little Red Lighthouse
Little Rock Nine
live music
Lo-Fantasy
lower east side
Lt. General Roméo Dallaire
Marc Maron
marijuana laws
Matt Andersen
Matt Mays
Mayor Bill de Blasio
Mayor Rob Ford
McGarrigle Sisters
Megan Bonnell
Mellow Pages
Memoirs
mental health treatment
Mercury Lounge
methane
M for Montreal
Michael Barclay
Michael Enright
Michael Ruby
Miles O'Brien
Mo Kenney
Monomyth
music festivals
music marketing
National Film Board of Canada
Neil Young
Neil Young. Third Man Records
Nevado Records
Newfoundland
New York City
New York music venues
Noah
Nobel Prize
NXNE
Olympics
Ontario
Ottawa Jazz Festival
Paperbag Records
Parks Canada
Percé Rock
Peter Warner
photojournalism
podcasting
poetry
political mindsets
President Obama
prosthetics
PS I Love You
PTSD
PublishersMarketplace.com
Publishers Weekly
Pumpkin Pie
Q
Quebec
racial bias
Rah Rah
Random House Canada
road trips
Robert Henry Adams
Robertson Davies
Rob Ford
Rockwood Music Hall
Rolling Stone
Rural Alberta Advantage
Ruth Gruber
Sadies
Said the Whale
Sam Roberts Band
SaskMusic
SaskMusic.org
satire
Scott Young
sex education
Shawn William Clark
Shore Fire Media
short stories
Siberia
sister cities
spy novels
Stephen Harper
Stephen Marche
St Louis
Stompin' Tom Connors
Strombo Show
Strumbellas
suicide prevention
summer vacation 2014
Swiss Water
Syrian refugees
Talonbooks
Thanksgiving
The Ballad of Crowfoot
The Deep Dark Woods
The Great Gray Bridge.
TheGreatGrayBridge.com
The Orchard
The Revenant
The Strumbellas
This is That
Toronto
Toronto Book Awards
Toronto mayoral election
Toronto Star
Torquil Campbell
traditional music
Turnip King
Ugly Duckling Presse
Undercover Books
upper Manhattan
Vancouver
Vietnam
W.B. Belcher
war memorials
Wigrum
Wilderness of Manitoba
WWI