Great New 2-Volume Reference, "The Encyclopedia of Music in Ireland"
I spent an enjoyable Saturday morning reading about some of the early pioneers of traditional Irish and Celtic music—like the 17th century harpist and classical composer Turlough Carolan, the veritable Scarlatti of Ireland, and the 1920s fiddler Michael Coleman, a seminal figure who brought his technique and style from County Sligo to New York City in 1914, and inspired dozens of players in succeeding decades. I also sought out entries on several of my favorite contemporary Irish musicians: Mick Moloney, singer, multi-instrumentalist, educator, folklorist, musicologist, bandleader, and early facilitator of Cherish the Ladies; Liz Carroll, Chicago fiddler; Kevin Burke, Sligo fiddler; and Martin Hayes, Seattle fiddler, with whom my late Franconia College friend Rob Adams took some lessons in the 1990s; and bands like Boys of the Lough.
I was glad that I got to attend the launch event for The Encyclopedia of Music in Ireland (aka as EMIR within the two-volume set) at the Irish American Historical Society across from the Metropolitan Museum of Art on Fifth Ave one cold night last month. At rush hour it took me quite a while to get across Central Park from my office on the upper west side of Manhattan. When I finally got to the east side, the sun was setting vividly over the park, with a last peek of it along the horizon line.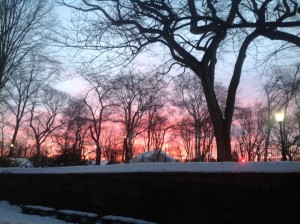 Late though I was, I managed to enter the room just as Irish novelist Colm Tóibín was offered the floor to speak about the encyclopedia. I shed my coat, and spotted friend Jack Lamplough, who in helping the publisher promote the book, had invited me for the occasion. There were close to seventy-five people already there. Holding both volumes as in his hands as he spoke, Toibin offered sincere remarks about the amazing breadth of the encyclopedia, encompassing as it does orchestral music and musicians, operatic performers, folk music and its practitioners, popular artists, rock n' rollers, and more.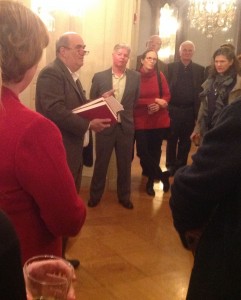 While encyclopedias and multi-volume reference books were common in prior decades of publishing, and I worked on a few, examples of publishing like this are uncommon in the present era of digital publishing. This two-volume set, from University College Dublin Press, is a superb piece of publishing, with over 2,000 entries, and more than 200 contributors assembled by general editors Harry White and Barra Boydell, both of whom were on hand, and spoke after Toibin. Not only does it have biographical articles on individual artists and bands, such as Liam Clancy, James Galway, Bob Geldof, Them (Van Morrison's early outfit who, according to the entry, were in 1965 "the first Irish band of the Beatles era to have a British hit with 'Baby, Please Don't Go'"), The Pogues, and Thin Lizzy, it orders the entire world of Irish music with such granular categories and topics as: "Bells and bell-ringing," "Bodhrain" ('defined in a 1904 dictionary of Irish as a deaf person, a person of indifferent hearing, an indistinct person, a shallow skin-bottomed vessel…a drum'), "Canada: Irish traditional music," "Dublin," "The Gaelic League," and "Police bands."
During my years at Franconia College, the aforementioned Rob Adams, and the third member of our tight troika of friendship, Karl Petrovich, opened my ears to traditional music from Ireland, Scotland, all of the British Isles, and Appalachia. During those years, a Franconia professor and friend, William Congdon, introduced me to the music of English composer Ralph Vaughan Williams (1872-1958), who like a British Alan Lomax, collected folk songs from ordinary people in the field, and combined folk melodies with modernist elements in his magnificent output of orchestral and chamber music. After my college years, when I ran Undercover Books with my siblings and parents, I sold folk and traditional albums in our stores and at live events, like when Mike Seeger and the great Elizabeth Cotton played at a Cleveland venue (if you don't happen to know her music, here she is playing "Freight Train"). When I moved to New York City in 1985, I lived in the Washington Heights section of Manhattan, close to Inwood, an Irish enclave where live music was played in bars I walked to or rode my bike to on weekend afternoons. North of Inwood in the Bronx was Gaelic Park, an outdoor sports venue where I watched teams from Ireland compete in hurling and Irish football matches. I was quite sure I was one of the only New Yorkers there without Irish roots. I also listened to Irish music on local radio station WFUV, which every week carried the Thistle & Shamrock program hosted by Fiona Ritchie, notable emissary of Celtic music, herself author of the recently published Wayfaring Strangers: The Musical Voyage from Scotland and Ulster to Appalachia, a music book I'm eager to add to my library. This music will always be close to my heart. I relish the opportunity to experience and enjoy it afresh with the new encyclopedia, and to read about all the other forms of music that have flourished among the Irish.
I'm grateful to Jack Lamplough for recognizing me and my blogs as press and offering me The Encyclopedia of Music in Ireland for review. I'll continue writing about it, recommending it, and enjoying it for a long time. And now for your listening and viewing pleasure, below is a youtube recording of reels by Michael Coleman, more pictures from the reception, and of the encyclopedia itself, with ordering information.
Browse by Month:
Browse by Category:
Browse by Tag:
#elexn42
#ToPoli
60 MInutes
1993
2015 elections
2015 Federal Election
2016 presidential election
@CBCRadio3
Abraham Lincoln
Acadia
Adolf Hitler
Agent Orange
Alice Munro
Amanda Lang
Amelia Curran
Amity Beach
Amtrak
Anderson Varajao
Antonine Maillet
architecture
Arctic Ocean
Arkells
AUX TV
Ben Caplan
Beverley Slopen
book-to-film adaptations
Born Ruffians
Boyhood
Brain Cloud
branding exercises
Brandon Downing
bullying
Cabot Trail
Calvin Reid
Canada
Canadiana
Canadian authors
Canadian bands in NYC
Canadian Blast
Canadian elections
Canadian indie music
canadian indie rock
Canadian indie rock n' roll
canadian politics
Canadian rock n' roll
Canadians abroad
Canadian vacations
cancer
CANlit
CANRock
Cape Breton
CBC
CBC Books
CBC Music
CBC Radio
CBC Radio 3
CBC Sunday Edition
CBS
Chicago
Cleveland
CMJ
CMJ Music Marathon
CN Tower
coffee
Cold War
Colm Toibin
comedy
Communion Music
Corb Lund
corruption
covert agents
cowboy culture
Crime Writers of Canada
cross-cultural writing
Daniel Canty
Dave Bidini
Dave Van Ronk
David Margolick
Del Barber
depression
dialect
Doug Ford
drunk driving
editorial services
Edward Keenan
Edward Robb Ellis
Elizabeth May
Elliott Brood
Ethan Hawke
Ewan Turner
fair housing
Farley Mowat
Fence Books
flickr
folk music
Franconia College
Frazey Ford
French
FridayReads
Gaspé Peninsula
George Elliott Clarke
George Washington Bridge
Gill Deacon
global climate change
Grant Lawrence
Greenwich Village
Harlan Pepper
Henry Tandey
Hidden Pony
HIGHS
hockey
Hollerado
Honourary Canadian
Howard Engel
humor
Ian Tyson
indie music
In Flight Safety
Ireland
Irish music
Israel
Jan Wong
Jian Ghomeshi
Jill Barber
Joe's Pub
journalism
Justin Trudeau
Kathryn Kuitenbrouwer
Kevin Donovan
Keystone XL
Lee's Palace
Lee Harvey Osmond
Lee Lorch
Leonard Cohen
life after corporate publishing
Linda Ronstadt
Lisa LeBlanc
Little Red Lighthouse
Little Rock Nine
live music
Lo-Fantasy
lower east side
Lt. General Roméo Dallaire
Marc Maron
marijuana laws
Matt Andersen
Matt Mays
Mayor Bill de Blasio
Mayor Rob Ford
McGarrigle Sisters
Megan Bonnell
Mellow Pages
Memoirs
mental health treatment
Mercury Lounge
methane
M for Montreal
Michael Barclay
Michael Enright
Michael Ruby
Miles O'Brien
Mo Kenney
Monomyth
music festivals
music marketing
National Film Board of Canada
Neil Young
Neil Young. Third Man Records
Nevado Records
Newfoundland
New York City
New York music venues
Noah
Nobel Prize
NXNE
Olympics
Ontario
Ottawa Jazz Festival
Paperbag Records
Parks Canada
Percé Rock
Peter Warner
photojournalism
podcasting
poetry
political mindsets
President Obama
prosthetics
PS I Love You
PTSD
PublishersMarketplace.com
Publishers Weekly
Pumpkin Pie
Q
Quebec
racial bias
Rah Rah
Random House Canada
road trips
Robert Henry Adams
Robertson Davies
Rob Ford
Rockwood Music Hall
Rolling Stone
Rural Alberta Advantage
Ruth Gruber
Sadies
Said the Whale
Sam Roberts Band
SaskMusic
SaskMusic.org
satire
Scott Young
sex education
Shawn William Clark
Shore Fire Media
short stories
Siberia
sister cities
spy novels
Stephen Harper
Stephen Marche
St Louis
Stompin' Tom Connors
Strombo Show
Strumbellas
suicide prevention
summer vacation 2014
Swiss Water
Syrian refugees
Talonbooks
Thanksgiving
The Ballad of Crowfoot
The Deep Dark Woods
The Great Gray Bridge.
TheGreatGrayBridge.com
The Orchard
The Revenant
The Strumbellas
This is That
Toronto
Toronto Book Awards
Toronto mayoral election
Toronto Star
Torquil Campbell
traditional music
Turnip King
Ugly Duckling Presse
Undercover Books
upper Manhattan
Vancouver
Vietnam
W.B. Belcher
war memorials
Wigrum
Wilderness of Manitoba
WWI