How We May Grow Even After Losing a Part of Ourselves
#FridayReads NAKED IMPERFECTION, @GillDeacon's engrossing memoir of cancer&learning to stop always being perfect. pic.twitter.com/Tk2N7uVQq0

— Philip Turner (@philipsturner) July 5, 2014
Naked Imperfection was my #FridayReads last weekend, and it gripped me straight through until early this week. Gill Deacon is the host of CBC Radio's daily afternoon show from Toronto, Here and Now, with a voice that's good company on the air, and which translates well in print. Prior to her broadcasting career, she was an environmental journalist and consumer health advocate. She lived consciously and consumed carefully, avoiding products that could harm her, her family, and her fellow denizens of the earth. She wrote an earlier book called There's Lead in Your Lipstick. This made her all the more ill-prepared when she received a chilling diagnosis of breast cancer. She propels her narrative forward rapidly, in modified stream-of-consciousness style, with many of her paragraphs built of staccato sentences, like this one, after she's had a mastectomy: "Tonight, as Grant and I move between the sheets in the blue-grey, pixelated, late-night bedroom light, I look down at my chest. A single orb of flesh presses up against my husband's chest, its twin felled—an abandoned goddess, carrying on alone. Beside it, the graveyard of ribs. I am snatched by the escapist pleasure of my husband's touch by the reminder of what had happened. Mourning the imperfect body I once had. I wish I still had two breasts. Sometimes the sadness surfaces like a beluga gasping for air. How can I be grateful for being misshapen." The closing chapters were so well-crafted, I slowed my reading, lest I finish the book too quickly. I kept paging back to re-read passages I'd just read, so apt were they about living a full life, even if an imperfect one. After writing candidly about the prosthetic breast she got after her surgery, Deacon ends her book, some years in to the slow-motion crisis, with good news from her doctor, who "used the words cancer and gone in the same sentence. 'Go out and live your life,' she said with a smile. 'You're always going to have more doctor's appointments than most of your friends, and technically it takes more than five years before the odds of you getting cancer drop down to match the general population, but for all intents and purposes your cancer is gone. Get back to whatever you were doing before this disease rang your bell.'"
Science journo @MilesOBrien suffered a severe injury&lost an arm while on a reporting trip. Here's his moving account-http://t.co/lPoFzrVreB — Philip Turner (@philipsturner) June 13, 2014
Much of my recent reading and other cultural consumption has featured people who through accident or illness have endured the loss of parts of themselves, like Miles O'Brien, whom I tweeted about above. To his credit, he not only wrote in New York magazine about the frightening accident—when on a reporting trip to the Philippines last February he suffered an accident that led to the amputation of his left arm—he also reports on the neurological sources of phantom pain, and the design and engineering of high-tech prosthetics, a field that's burgeoning due in part due to the return home of many wounded veterans of the wars in Iraq and Afghanistan, and the growth of miniature electronics.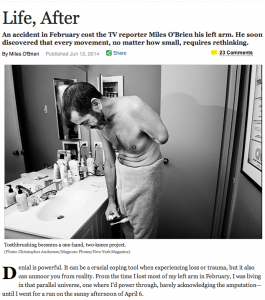 Relatedly, I later listened to a gripping episode of a new CBC radio series called Live Through This. It featured an account of Paul Templer, a wilderness guide in Zimbabwe who survived an attack by an aggressive hippo that nearly killed him, though he lost an arm in the melee, during which he was for some time in the gaping mouth of the animal. Templer healed and was fitted with a prosthetic arm. He later guided another trip down the Zambezi River, to raise money that will help victims of land mine explosions receive prosthetic devices of their own.
These incidents reminded me of what my longtime author Lt General Roméo Dallaire told me in 2006, when he was in New York City, promoting Carroll & Graf's edition of his Canadian bestseller, Shake Hands with the Devil: The Failure of Humanity in Rwanda. Reflecting on the PTSD he's been afflicted with ever since, as commander of the under-manned UN Peacekeeping Force in Rwanda in 1993 he endured the searing experience of trying to prevent the genocide, he told me: "When I slip into depression, the medicines and therapy act like a prosthetic and keep me from falling."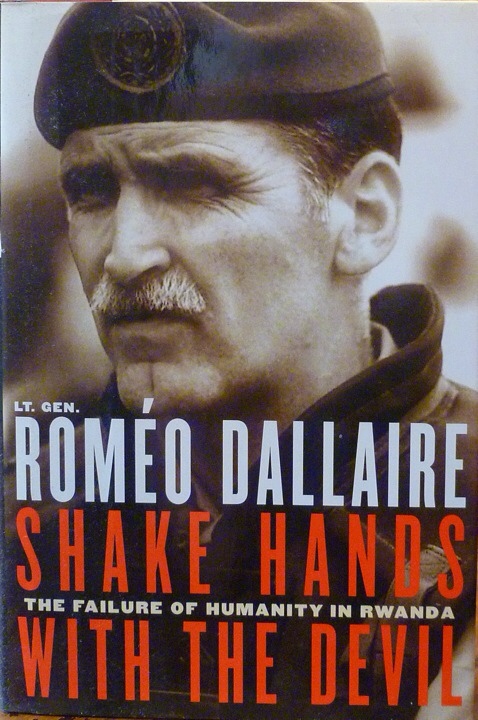 It occurs to me that in some ways human evolution is a long-running narrative of the development of various kinds of prostheses, from the first crutch to aid a hobbled walker, to the development of finely ground lenses for eyeglasses, the fitting of dental plates (the latter two are prostheses that I use every day), limbs, and other miscellaneous body parts. Even the wheel can be seen in this light as an aid to our daily work, and the club or hammer. Whether affixed and integral to our body; an extension of our hand or arm; or wholly apart from our person, it it fair to say that tools = prosthetics, and vice versa.
These were among the reflections stirred up in me while reading Gill Deacon's astonishingly fine memoir, a superb first person narrative. I recommend it if you want to read a candid memoir, and if you, or a friend or relative, has been ill. There's lots of hope and bright humor in this honest book.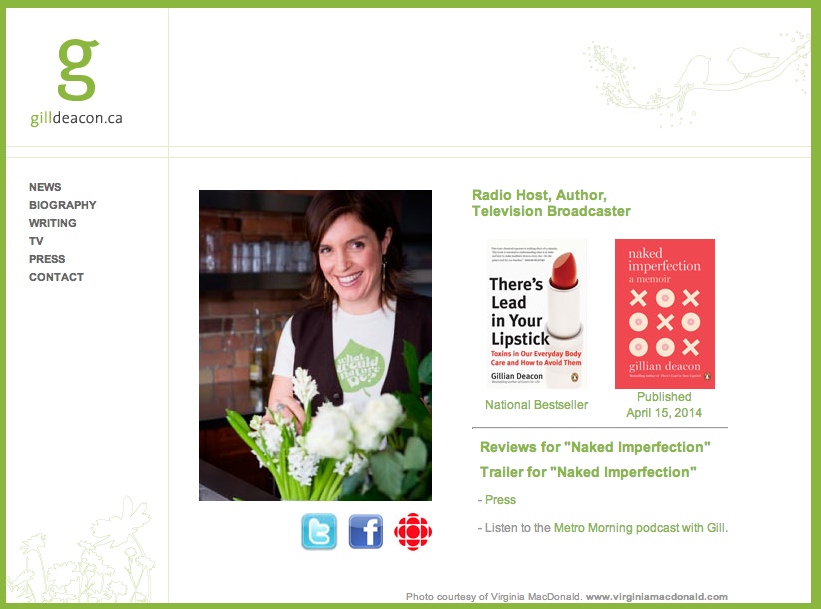 N.B. Gill Deacon's book is the second terrific memoir I've read by a female Canadian writer in the past few months, the earlier one having been Jan Wong's Out of the Blue, which I made a #FridayReads last March 14 and wrote about again on March 21, after I'd finished it.
Browse by Month:
Browse by Category:
Browse by Tag:
#elexn42
#ToPoli
60 MInutes
1993
2015 elections
2015 Federal Election
2016 presidential election
@CBCRadio3
Abraham Lincoln
Acadia
Adolf Hitler
Agent Orange
Alice Munro
Amanda Lang
Amelia Curran
Amity Beach
Amtrak
Anderson Varajao
Antonine Maillet
architecture
Arctic Ocean
Arkells
AUX TV
Ben Caplan
Beverley Slopen
book-to-film adaptations
Born Ruffians
Boyhood
Brain Cloud
branding exercises
Brandon Downing
bullying
Cabot Trail
Calvin Reid
Canada
Canadiana
Canadian authors
Canadian bands in NYC
Canadian Blast
Canadian elections
Canadian indie music
canadian indie rock
Canadian indie rock n' roll
canadian politics
Canadian rock n' roll
Canadians abroad
Canadian vacations
cancer
CANlit
CANRock
Cape Breton
CBC
CBC Books
CBC Music
CBC Radio
CBC Radio 3
CBC Sunday Edition
CBS
Chicago
Cleveland
CMJ
CMJ Music Marathon
CN Tower
coffee
Cold War
Colm Toibin
comedy
Communion Music
Corb Lund
corruption
covert agents
cowboy culture
Crime Writers of Canada
cross-cultural writing
Daniel Canty
Dave Bidini
Dave Van Ronk
David Margolick
Del Barber
depression
dialect
Doug Ford
drunk driving
editorial services
Edward Keenan
Edward Robb Ellis
Elizabeth May
Elliott Brood
Ethan Hawke
Ewan Turner
fair housing
Farley Mowat
Fence Books
flickr
folk music
Franconia College
Frazey Ford
French
FridayReads
Gaspé Peninsula
George Elliott Clarke
George Washington Bridge
Gill Deacon
global climate change
Grant Lawrence
Greenwich Village
Harlan Pepper
Henry Tandey
Hidden Pony
HIGHS
hockey
Hollerado
Honourary Canadian
Howard Engel
humor
Ian Tyson
indie music
In Flight Safety
Ireland
Irish music
Israel
Jan Wong
Jian Ghomeshi
Jill Barber
Joe's Pub
journalism
Justin Trudeau
Kathryn Kuitenbrouwer
Kevin Donovan
Keystone XL
Lee's Palace
Lee Harvey Osmond
Lee Lorch
Leonard Cohen
life after corporate publishing
Linda Ronstadt
Lisa LeBlanc
Little Red Lighthouse
Little Rock Nine
live music
Lo-Fantasy
lower east side
Lt. General Roméo Dallaire
Marc Maron
marijuana laws
Matt Andersen
Matt Mays
Mayor Bill de Blasio
Mayor Rob Ford
McGarrigle Sisters
Megan Bonnell
Mellow Pages
Memoirs
mental health treatment
Mercury Lounge
methane
M for Montreal
Michael Barclay
Michael Enright
Michael Ruby
Miles O'Brien
Mo Kenney
Monomyth
music festivals
music marketing
National Film Board of Canada
Neil Young
Neil Young. Third Man Records
Nevado Records
Newfoundland
New York City
New York music venues
Noah
Nobel Prize
NXNE
Olympics
Ontario
Ottawa Jazz Festival
Paperbag Records
Parks Canada
Percé Rock
Peter Warner
photojournalism
podcasting
poetry
political mindsets
President Obama
prosthetics
PS I Love You
PTSD
PublishersMarketplace.com
Publishers Weekly
Pumpkin Pie
Q
Quebec
racial bias
Rah Rah
Random House Canada
road trips
Robert Henry Adams
Robertson Davies
Rob Ford
Rockwood Music Hall
Rolling Stone
Rural Alberta Advantage
Ruth Gruber
Sadies
Said the Whale
Sam Roberts Band
SaskMusic
SaskMusic.org
satire
Scott Young
sex education
Shawn William Clark
Shore Fire Media
short stories
Siberia
sister cities
spy novels
Stephen Harper
Stephen Marche
St Louis
Stompin' Tom Connors
Strombo Show
Strumbellas
suicide prevention
summer vacation 2014
Swiss Water
Syrian refugees
Talonbooks
Thanksgiving
The Ballad of Crowfoot
The Deep Dark Woods
The Great Gray Bridge.
TheGreatGrayBridge.com
The Orchard
The Revenant
The Strumbellas
This is That
Toronto
Toronto Book Awards
Toronto mayoral election
Toronto Star
Torquil Campbell
traditional music
Turnip King
Ugly Duckling Presse
Undercover Books
upper Manhattan
Vancouver
Vietnam
W.B. Belcher
war memorials
Wigrum
Wilderness of Manitoba
WWI