Why Vetoing Keystone XL is not Futile
I recommend Tim Dickinson's excellent Rolling Stone article about the Obama administration's refusal, at least to this point, to greenlight the Keystone XL pipeline, and the Harper government's years-long efforts to tie virtually the entire Canadian economy to oil production. Dickinson hits on every key point about the fateful and disastrous choices made by Stephen Harper. It begins like this:
"Since ultraconservative Prime Minister Stephen Harper—famously described by one Canadian columnist as 'our version of George W. Bush, minus the warmth and intellect'—took power in 2006, he's quietly set his country on a course that seems to be straight from the Koch brothers' road map. Harper, 55, has gutted environmental regulation and fast-tracked colossal projects to bring new oil to market. Under his leadership, Canada has also slashed corporate taxes and is eliminating 30,000 public-sector jobs….Stephen Harper came of age in Alberta, a land of cowboys and oil rigs sometimes referred to as 'Texas of the North.' He began his career in the mailroom of Imperial Oil (today an offshoot of Exxon). He rose through Parliament promising a revolution in federal affairs under the battle cry 'The West wants in!' Following his election to prime minister in 2006, he wasted little time unveiling his plan to open up his nation's vast oil reserves. Before an audience of British businessmen in 2006, he spoke of 'the emerging energy superpower our government intends to build,' and rhapsodized about the 'ocean of oil-soaked sand [that] lies under the muskeg of northern Alberta.' He framed the challenge of bringing that crude to market as though it were a Wonder of the World. 'It requires vast amounts of capital . . . and an army of skilled workers,' he said. 'It is an enterprise of epic proportions, akin to the building of the pyramids or China's Great Wall. Only bigger.'"
The grandiosity is staggering, reminiscent to me of the early years of George W. Bush's disastrous presidency.
Many American observers, even some generally alarmed by climate change, have noted what they consider to be a pointlessness to President Obama declining to okay Keystone XL, considering that the amount of oil to be carried by KXL is only a fraction of the volume being carried in other pipelines already, and that too much oil is now being shipped by rail, a risk as great as pipeline spills. Yet, this misses a key point: Harper has staked his total transformation of the Canadian economy to this pipeline, in line with companies such as TransCanada, the backer of Keystone XL, or to the creation of two other pipelines that are vigorously opposed by many Canadians. One of these would go west from Alberta through British Columbia to the Pacific Ocean, while the other would go east toward the Maritimes and the Atlantic. If he is unable to build any of these three, his intention to mine the great bulk of the tar sands is less likely to be realized. To the extent that the Obama administration can impede those grandiose designs, even if that isn't the point of American policy, it will be a good thing from my viewpoint, because I believe that harvesting the entirety of the tar sands will inevitably hasten planetary change that we dare not risk.
One side note that amused me while reading Dickinson's article: a cheery ad from TransCanada popped up in my browser, endorsing the idea that "Pipelines Work!" Doubtless, it appeared because the name TransCanada was on that page of the Rolling Stone article. See the screenshot below. I highly recommend you read Dickinson's entire article.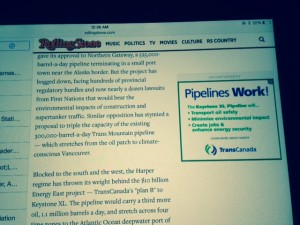 Browse by Month:
Browse by Category:
Browse by Tag:
#elexn42
#ToPoli
60 MInutes
1993
2015 elections
2015 Federal Election
2016 presidential election
@CBCRadio3
Abraham Lincoln
Acadia
Adolf Hitler
Agent Orange
Alice Munro
Amanda Lang
Amelia Curran
Amity Beach
Amtrak
Anderson Varajao
Antonine Maillet
architecture
Arctic Ocean
Arkells
AUX TV
Ben Caplan
Beverley Slopen
book-to-film adaptations
Born Ruffians
Boyhood
Brain Cloud
branding exercises
Brandon Downing
bullying
Cabot Trail
Calvin Reid
Canada
Canadiana
Canadian authors
Canadian bands in NYC
Canadian Blast
Canadian elections
Canadian indie music
canadian indie rock
Canadian indie rock n' roll
canadian politics
Canadian rock n' roll
Canadians abroad
Canadian vacations
cancer
CANlit
CANRock
Cape Breton
CBC
CBC Books
CBC Music
CBC Radio
CBC Radio 3
CBC Sunday Edition
CBS
Chicago
Cleveland
CMJ
CMJ Music Marathon
CN Tower
coffee
Cold War
Colm Toibin
comedy
Communion Music
Corb Lund
corruption
covert agents
cowboy culture
Crime Writers of Canada
cross-cultural writing
Daniel Canty
Dave Bidini
Dave Van Ronk
David Margolick
Del Barber
depression
dialect
Doug Ford
drunk driving
editorial services
Edward Keenan
Edward Robb Ellis
Elizabeth May
Elliott Brood
Ethan Hawke
Ewan Turner
fair housing
Farley Mowat
Fence Books
flickr
folk music
Franconia College
Frazey Ford
French
FridayReads
Gaspé Peninsula
George Elliott Clarke
George Washington Bridge
Gill Deacon
global climate change
Grant Lawrence
Greenwich Village
Harlan Pepper
Henry Tandey
Hidden Pony
HIGHS
hockey
Hollerado
Honourary Canadian
Howard Engel
humor
Ian Tyson
indie music
In Flight Safety
Ireland
Irish music
Israel
Jan Wong
Jian Ghomeshi
Jill Barber
Joe's Pub
journalism
Justin Trudeau
Kathryn Kuitenbrouwer
Kevin Donovan
Keystone XL
Lee's Palace
Lee Harvey Osmond
Lee Lorch
Leonard Cohen
life after corporate publishing
Linda Ronstadt
Lisa LeBlanc
Little Red Lighthouse
Little Rock Nine
live music
Lo-Fantasy
lower east side
Lt. General Roméo Dallaire
Marc Maron
marijuana laws
Matt Andersen
Matt Mays
Mayor Bill de Blasio
Mayor Rob Ford
McGarrigle Sisters
Megan Bonnell
Mellow Pages
Memoirs
mental health treatment
Mercury Lounge
methane
M for Montreal
Michael Barclay
Michael Enright
Michael Ruby
Miles O'Brien
Mo Kenney
Monomyth
music festivals
music marketing
National Film Board of Canada
Neil Young
Neil Young. Third Man Records
Nevado Records
Newfoundland
New York City
New York music venues
Noah
Nobel Prize
NXNE
Olympics
Ontario
Ottawa Jazz Festival
Paperbag Records
Parks Canada
Percé Rock
Peter Warner
photojournalism
podcasting
poetry
political mindsets
President Obama
prosthetics
PS I Love You
PTSD
PublishersMarketplace.com
Publishers Weekly
Pumpkin Pie
Q
Quebec
racial bias
Rah Rah
Random House Canada
road trips
Robert Henry Adams
Robertson Davies
Rob Ford
Rockwood Music Hall
Rolling Stone
Rural Alberta Advantage
Ruth Gruber
Sadies
Said the Whale
Sam Roberts Band
SaskMusic
SaskMusic.org
satire
Scott Young
sex education
Shawn William Clark
Shore Fire Media
short stories
Siberia
sister cities
spy novels
Stephen Harper
Stephen Marche
St Louis
Stompin' Tom Connors
Strombo Show
Strumbellas
suicide prevention
summer vacation 2014
Swiss Water
Syrian refugees
Talonbooks
Thanksgiving
The Ballad of Crowfoot
The Deep Dark Woods
The Great Gray Bridge.
TheGreatGrayBridge.com
The Orchard
The Revenant
The Strumbellas
This is That
Toronto
Toronto Book Awards
Toronto mayoral election
Toronto Star
Torquil Campbell
traditional music
Turnip King
Ugly Duckling Presse
Undercover Books
upper Manhattan
Vancouver
Vietnam
W.B. Belcher
war memorials
Wigrum
Wilderness of Manitoba
WWI