---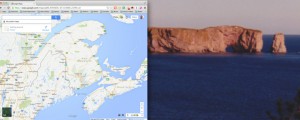 Over the past couple days, I've been looking at old photos I may scan and use to illustrate posts I plan to publish on the two blogs I manage–it's rewarding work, especially the more I really dig in to the task and decide what to post. Even with the pictures I'm unlikely to use, it's fun to be reminded of things I've done and places I've been over the years.
As an example of the sort of images I'm looking at, here are pictures I took on a three-week solo road trip I made in autumn 1988 to Atlantic Canada, with a culminating day at the majestic Percé Rock (aka le rocher percé or 'pierced rock') or in eastern Quebec along the Gaspé Peninsula, a veritable lobster tail jutting in to the Gulf of St. Lawrence where it meets the Atlantic Ocean, as shown on the above map. The rock face sits like the prow of a massive ship, towering nearly three hundred feet above the water. It is approachable on foot at low tide, but even then you have to keep on your toes as winds can shift the waves unexpectedly. The same vacation I also visited nearby Bonaventure Island and Parc Forillon, a serene national park. I toured this area only once, as subsequent trips to Quebec with my wife and son never brought us this far east. I would love to return with them some day.
The wikipedia entry about Percé Rock includes a lot of fascinating information, such as the fact that more than 150 fossil species have been found in the locale, with some of the fossils dating back more than 310 million years. Bonaventure Island, which I visited by boat, is home to huge flocks of noisy seabirds, including northern gannets, snowy gannets, and black cormorants, with the pungent tang of their guano filling the air, which in past times local farmers would gather to spread across their fields.
This region left a great impression on me, for as you can see, I chose the image of the pierced rock as the motif for this site when I started it last year, similar to when I chose an image of the George Washington Bridge, aka The Great Gray Bridge, for my first blog, established in 2011. Unsurprisingly, I am not alone in having been captivated by Percé Rock. The wikipedia article reports that French poet André  Breton, an exponent of surrealism and friend to Dada artists, visited the rock in 1944, while global war still raged, including at home in France. His sight of the rock inspired a poem, "Arcanum 17," which he called "a hymn of hope, renewal, and resurrection," adding that Percé Rock is a "razor blade rising out of the water, an image very imperious and commanding, a marvelous iceberg of moon stone…to a distracted observer though to a common man it is just but a resting place of birds."