---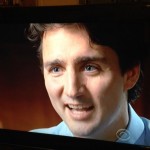 I was eager to watch Justin Trudeau on 60 Minutes Sunday night, and indeed he handled himself very well, but I gotta say I disliked the attitude adopted by interviewer Lara Logan, which had a noticeable American rightwing edge to it with tendentious questions about the 25,000 Syrian refugees Canadians have admitted to their country since last December, and about ISIS. Prime Minister's Trudeau's executed a rapid turnaround in Canada's international reputation, and is showing Canada and the world how to lead one's country in a new direction, cultivating core social values, all with welcoming inclusion.
Here's the picture @60Minutes showed of Pierre and Maggie Trudeau. Yes, that's @KimCattrall. pic.twitter.com/T8NQzYsoYW

— Toronto Mike (@torontomike) March 7, 2016

Update: During the CBS broadcast, I heard Lara Logan refer to Margaret Trudeau, Justin Trudeau's mother, and they showed a picture of a young woman with Pierre Elliott Trudeau. The only problem with this? Turns out, they had shown a picture of a different woman (Kim Cattrall, then a young actress). This reminded me that Logan has long been prone to making serious errors as a correspondent for 60 Minutes, like she did in 2013 when she promoted a faux memoir of a security operative who claimed, falsely, he had been in Benghazi when the US embassy there was attacked in 2012. I wrote about this at the time on my other blog, The Great Gray Bridge.
60 minutes just showed a picture of Kim Cattrall as Maggie Trudeau… erm, didn't anyone proof this? #Trudeau #60Minutes

— Hillary Ryde-Collins (@HillaryRyde) March 7, 2016