---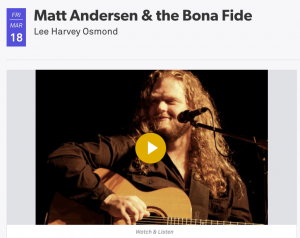 Looking forward to hearing Matt Andersen & Lee Harvey Osmond Friday 3/18 at Rockwood Music Hall NYC. Andersen's powerful voice reminds of Greg Allman's, while Osmond's also got major vocal tone. Below are music videos by both artists. Admission is a very reasonable $15.
Click this link to get ticket info for Friday night's show, a rare live appearance for both in NYC.
The booker at Rockwood is on a roll this week, as Sunday night March 20 they have Mo Kenney on one of their three stages. I hope to catch her show, too. Ticket info here, only $10.
Andersen:

Osmond:

Kenney: