---
On my way home from kick-ass live show by @ruralalberta advantage, dynamic trio that stomps, wails, and rocks. pic.twitter.com/vrbsQt5S9W

— Philip Turner (@philipsturner) January 24, 2014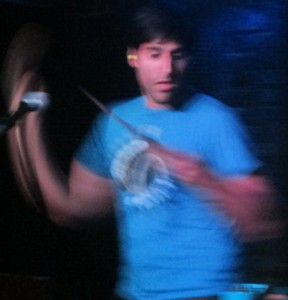 Fun live music show last night with Toronto trio Rural Alberta Advantage in front of a boisterously appreciative full house at the Mercury Lounge on the lower east side of Manhattan. Early on, one of the band members mentioned from the stage that they had last played in NYC about four years ago, and how glad they were to back. Despite that, or even because of it, they sold out an early and a late show last night. I was at the latter set, my first time hearing them, after some years enjoying their music on CBC Radio 3. When I arrived near the end of the opening set by the duo Glasslands, I was glad to see the venue quite crowded already. In this club, with a music room whose walls are clad all in brick and no acoustic buffers installed anywhere, the sound can be brittle and harsh if the room isn't full of people. On a wintry night with everybody in sweaters and heavy coats, the crowd was the buffer, and the sound was great.
The three members of RAA array themselves across the stage in a level rank–that is, the drummer, Paul, isn't set up toward the back of the stage, but to the side of his bandmates. The frontman, Nils–a fair, sort of gingery fellow, in a light blue denim shirt and blue jeans, your basic Canadian tuxedo, shown in the tweet I shared from the floor–belts out lyrics in a distinctive vocal and singing style, with lots of shouts and murmurs, more of the former than the latter, all very expressive. He accompanies himself with percussive and propulsive guitar strumming, on an acoustic. He actually broke a string last night, and apparently having no second guitar with him on stage, asked if anyone in the audience could re-string his instrument for him. A confident and competent dude called out from the audience and walked on stage to help out, while Nils moved stepped over to his keyboard for a song. The guitar good samaritan took care of business and finished his task before the next song ended. This little episode made me think of how Neil Young always lauds his longtime guitar tech Larry Cragg, To one side of Nils was raven-haired Amy, on keys, xylophone and backing vocals. Among the musical sounds from her instrumentation, I could tell that she was providing a steady bass thump–since the band doesn't have a bassist–and she did it really well). Drummer Paul was a fierce warrior on his stool, seated, not behind but to the side of his kit, so that you could really watch him play. It was nice to see a drummer freed from the back row. It's apt, because he was a big contributor to the band's sound last night. He happened to be in darkness most of the time, so the only photo of him I got of him happened when he was moving around on stage for a bit. Take my word for it: he's a seriously great drummer, with a punchy tone to his skins that had the sonic character of an instrument, not beats alone.
RAA has a pleasantly raw, not heavily amplified, sound, reminiscent to me of other Canadian groups I love like Elliott Brood, "death country" trio that features guitar, banjo, and drums; the multi-instrumental duo Sunparlour Players; Cuff the Duke, a 4-piece whose guitar-driven sound ranges from pastoral to edgy and serrated; and ski-bumming, stoke-folk 5-piece Shred Kelly.
Rural Alberta Advantage played for about 75 minutes last night, before coming back for a few encores, capped off by the band's stroll down from the stage in to the audience, where they stepped up on to a bench against a wall, and led the happy crowd in an acapella finale. Nils announced that following the show they would be hanging out in the bar's front room for a while and would be eager to meet and say hi. I stuck around and enjoyed introducing myself to and speaking with Paul Banwatt, Amy Cole, and Nils Edenloff. I told them about my blogs and said I looked forward to sharing a report on their show, along with the photos I took during their spirited performance.
Such a fun night of live music. I hope to hear the band again sometime and plan on picking up one or both of their albums down the road. I didn't buy either last night–being currently without a CD player attached to my Mac–but would love to have their CDs from Paperbag Records, a terrific label that also handles Elliott Brood and Cuff the Duke. Shout-out to Amanda Dameron Pitts of Cobra Camanda who helped me get in to to this sold-out show.
Cross-posted at The Great Gray Bridge.