---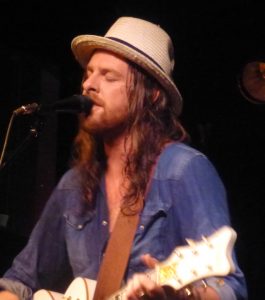 I'm thrilled that Matt Mays, one of my favorite Canadian rockers, will be playing a live show Sept 13 in NYC at the excellent local venue, Rockwood Music Hall, Stage 2. It will be the first time I know of that Matt's played Gotham since I began following Canadian rock n' roll avidly almost 10 years ago.  I love all of Mays's records, especially his exceptional concept album, "When the Angels Make Contact," released in 2006. (It was written as a soundtrack for a movie that hasn't been filmed.) Though it'll be the first time I've heard him close to home, I have heard him live twice before. The first was at a big show in Toronto with his whole band at Lee's Palace in 2012 (l.), and then in the wee hours at The Cameron House in 2014. Below is a picture from that sweet night. On June 22, 2014, I wrote at my other blog The Great Gray Bridge:
"Late last night I lucked in to an impromptu show at the great venue the Cameron House w/one of my musical heroes, Matt Mays. He had been invited by frontman Sam Cash to sit in with his band the Romantic Dogs. Matt began by leading the band, and the audience, in Neil Young's "Helpless." Matt and I spoke afterward, exchanging heartfelt appreciations. I conveyed my condolences for the sudden loss last year of his bandmate Jay Smith. He thanked me for remembering his old friend. I told him about Honourary Canadian and he told me he was already a reader of the blog. Thrilled to hear that, I gave him my card for which he thanked me and said it would be going in "a special place." Here's a shot of Sam and Matt from that night: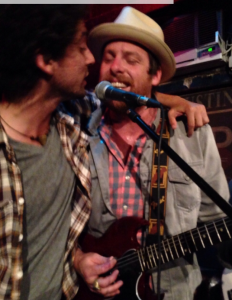 Click here for tickets to the Sept 13 show at Rockwood Music Hall. That's a venue friendly to acoustic or unplugged acts. I wonder if Matt, who can rock with the best of them (I like think of him as Canada's Springsteen, or a bit like Tom Petty), will be playing with a band or on his own. I'll found out a month from today!
Link to Matt Mays' new song, "Sentimental Sins":

Bonus link—youtube of Matt Mays's "City of Lakes":